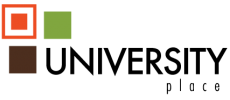 All-Inclusive Rent?

Your monthly rent pays for everything except parking. No need to worry about extra costs for heat, electricity, water, sewer, trash, high-speed wireless internet or satellite TV.
Do students have to leave during break?

Unlike the dorms, we do not require residents to vacate their apartments during their school break. Your residency for the 2019-2020 lease year is from the time of lease signing to July 31, 2020.
What about moving?

First time moving away from home? No furniture? No worries! Our apartments come furnished with a couch and two living room chairs, t.v stand, television, coffee table, dining table with four chairs, twin bed for shared rooms, full bed for private rooms, desk for each student with chair and dressers in select units.
Peace Of Mind

Rest easy when your loved ones live at University Place. We provide a comfortable home environment that students need to succeed at school and to enjoy their college experience. Our one-of-a-kind community is designed to help your student thrive and to give you one less thing to worry about.